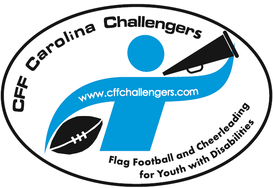 Come join our team!
The CFF Carolina Challengers provides a fun, safe and structured environment for young athletes to be on a team and enjoy the great sports of flag football and cheer.
We meet each Saturday, usually from late August through October (and sometimes into November) for about an hour and a half for a combined practice and an intramural game. Our game locations and times change each week as different associations within the Consolidated Football Federation host the Challenger Division.

Registration is FREE and begins is now open! Go to our REGISTRATION page to access the registration and physical forms.

For more information about the program and to see some pictures from previous seasons, check out the FAQs on this site. The CFF Challenger and flag programs were also selected for the Coach Me Cowher segment on the NFL Today show on CBS. You can also watch stories about the Challengers broadcast on WNCN and WTVD. Please share our flyer with others who might be interested in joining the Challengers.

The CFF Carolina Challengers is a volunteer-run organization. We need help on the field -- as football and cheer buddies and coaches -- and off the field, with activities ranging from raising funds to raising awareness to administration. We also rely on donors to support the program so our participants don't have to be charged for this experience and so we can provide them with special experiences, such as participating in the Pop Warner Little Scholars Super Bowl exhibition game at Disney World. To get more information on how you can help, please check out our Volunteer/Donate page.

The CFF Carolina Challengers are proud to be part of the Consolidated Football Federation (CFF) league in the Mid-South region of Pop Warner Little Scholars. To visit the CFF website, please click here. And please follow the CFF Carolina Challengers on Facebook!
---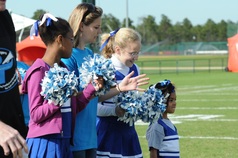 What do our parents say?

"BELONG!
This 6-letter word describes what the Challenger Program has meant and continues to mean for my son as well as myself. He has been a participant of the program since it began. The program has brought wonderful people into his life who genuinely care about HIM regardless of his disability. The Challenger Program has afforded my child an opportunity to be a part of a team, to form bonds, and to make friends. At the end of the day isn't that what we all want for our children? To be accepted, to BELONG."

"My son and daughter are both involved in the Challenger flag football/cheer program. This program has been an amazing program for both of my children. Their desire to be part of a team, like most children, has been realized. The excitement, the desire, the anticipation, the game, is what this whole experience fosters and delivers! It has been an outstanding experience for them, combined with simply having a lot of fun!!"

"My name is Ethan. I am 11 years old and I have cerebral palsy. I use a wheelchair, am visually impaired and can't really use my hands. But I do play football. The Challengers gave me an opportunity to do something that most people would think impossible for me. With my friend Trey (a cool Middle Creek High School football player) I was able to run the field, make passes and score touchdowns. It is so much fun. Everyone always says I am special- but out there on the field I am just another kid, doing what kids do." (As told by Ethan's mom.)

"The thought of my child who uses a wheelchair being 'able' to participate in football has been such a blessing. Challenging as it can be, we as parents try to make life for him as normal as possible. The smile that he displays week after week on the football field is priceless. He has become more independent and gained so much confidence since playing for the Pop Warner Challenger League."

"For the life of a child with autism, it seems we spend most of our free time running to therapy and doctors appointments. Learning about the Challenger league was like being handed a golden ticket of fun and acceptance. I was so touched by the many volunteers who create an environment of fun and excitement for children with special needs. I can't even begin to find the words to express my gratitude for this group of amazing people so I'll have to borrow a phrase my son often uses. The Challenger program 'makes my heart happy.'"

---