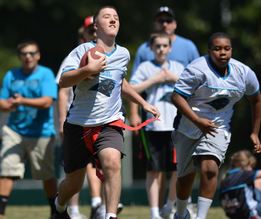 Registration begins in June. While we encourage you to register early, you can register as late as September 26 (but you'll miss the first month of fun!).
Registration is
FREE!
Just complete the registration form and the physical and return them to challenger@cffchallengers.com or mail to CFF Carolina Challengers, 4500 Oak Park Road, Raleigh, NC 27612. If you won't have your physical completed until just before the season, please submit your registration form NOW so you can begin receiving our updates and game schedule. Please note that you cannot participate until we receive the complete registration package of the registration form and physical. The physical must be signed by a medical professional (see form for details) in 2017.
​To participate in the CFF Carolina Challengers, athletes must be 5 to 18 years old (age is determined as of August 1--you have to be at least 5 years old on August 1 and no older than 18 on August 1) and have a physical and/or intellectual disability. A parent or caregiver must be in attendance at each game. Please see the
Frequently Asked Questions
for more information about our program and the season.
Know others who might be interested in participating in the Challenger program? Please share
our flyer
!
Click
HERE
to access the registration form.
Click
HERE
to access the two-page physical form.
NOTE: If your medical professional does not clear your child to play without limitations, please have him/her write any limitations on the physical form and initial them.
---