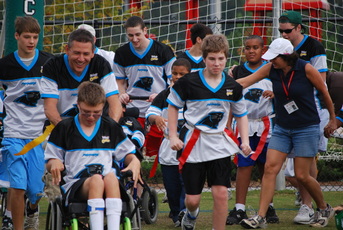 FREQUENTLY ASKED QUESTIONS


Where will the Challenger Division be available?
The Consolidated Football Federation (CFF) is a Pop Warner league that serves the greater Triangle area with 15 associations: Apex, Capital City, Cary, Cleveland, Durham, Garner, Knightdale, North Raleigh, Orange County, South Johnston, Tri-County, Wake County, Wake Forest, Wilders Grove.

The Challenger division is available to athletes throughout the greater Triangle area. Currently, all Challenger participants meet together and are divided into teams on a weekly basis for intramural games. We meet on a different CFF association field each week.



Who can participate?
According to Pop Warner Little Scholars national guidelines, participants with physical and/or intellectual disabilities ages 5 to 18 (as of August 1) who are enrolled in school are eligible to participate. Each participant has to get documented physician approval to participate. Final decision of eligibility rests with the association/CFF, especially in situations where the safety of a participant or other participants may be affected.

How do you register and how much does it cost?
Registration for the Challenger Division is free. To register, go to www.cffchallengers.com and access the registration form and the physical form. Mail the completed forms to CFF Challenger Division, 4500 Oak Park Road, Raleigh, NC 27612 or scan and email to challenger@cff-popwarner.com. If you have questions, call 919-349-6249. Registration begins in June.

When are practices?
Practices are held in coordination with the games.

When and where are the games?
The joint practices/games are every Saturday beginning the Saturday after Labor Day and running through October (and sometimes into early November). The game time will vary from week to week. Games will be played at fields throughout the Consolidated Football Federation area. Note that an adult family member/caregiver for each participant has to stay at the games.

Who can be a buddy? What does the buddy do?
Some athletes with disabilities will need a "buddy" on the field. The buddy must be at least 13 years old and can be a parent, sibling or friend of the participant. The association will also have volunteer buddies for participants who need a buddy. Non-family members will have to complete a volunteer application and will be subject to a criminal background check. The buddy needs to be responsible and aware of everyone's safety. You can find a link to the Pop Warner volunteer form on the Volunteers/Donors page of this site.

What accommodations are there for accessibility?
There is limited accessible parking at some of the associations. Most do not have accessible restrooms. Transportation is not provided to participants. Interpreters must be provided by the participants who need them.

What are the Challenger Division rules?
The Challenger Division follows Pop Warner flag football rules with modifications as noted in the rules. Some of the other rules that apply specifically to the Challenger Division are:

· All children ages 5 to 18 who are currently enrolled in school with physical or intellectual disabilities.
· Level of play based on size, age and skill level are recommended where numbers allow.
· Teams must roster a minimum of 10 and no more than 28 players.
· Games are played with a minimum of five (5) players on each side.
· No score is kept.
· Teams are permitted one (1) game per week.
· All players receive equal number of plays.
· Field may be standard 100 yards or programs may opt to use a 50-yard field.
· Team jerseys and flag provided for every participant.
· One coach permitted on the field at all times.
· Teams play two 25-minute halves with a running clock.

Where do I get more information?
Our website, www.cffchallengers.com, provides information about the Challenger Division and the registration materials. You can also e-mail challenger@cff-popwarner.com or call 919-349-6249.

Check out the CFF Carolina Challengers on Facebook!

---